Little Monster
Join Date: Feb 2007
Location: in a photoshoot
Posts: 2,261
Jazz's Swaps
---
Jazz's Swaps

..::..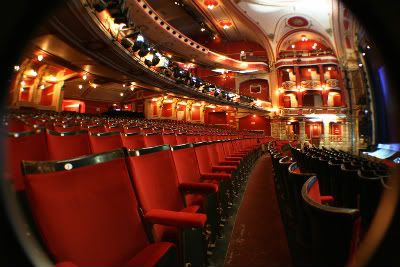 All The World's A Stage

And all the men and women merely players





Reishuu Tsuguo's Hensou Techniques


Name: Dancer's Eye
Stage: 4
Description: A doujutsu taught to the members of the Hensou for use in combat engagements and dealing with those who would mask their intent. The Boyougan drains the color from the user's vision, leaving everything in black and white. The only color the user sees is the energy produced by kinetic energy, the objects moving expressing their speed of movement energy in a range from dark blues for slow to bright orange for fast, with the differences more obvious then subtle. The most obvious use of this ninjutsu is to see fast moving objects that are thrown, or to more easily notice masked movements (like a person going from a rhytmic movement into a surprise attack). The Boyougan last for 4 post. Two post cooldown.

Name:Stage door
Stage: 5
Description: A useful jutsu in combat, this allows a Hensou to pass into any tree (whether natural or made through Mokuton) and pass back out through another tree within 10 meters. But the movement must be a complete movement in and out, no half actions are possible and hanging within a tree is impossible as the user is sucked in and forced back out the other end. As a side effect, if the user were to use a replacement jutsu, as long as they replace with a piece of wood they may pass out of a tree within 10 meters.

Name: Mask - The Acrobat
Stage: 5
Description: The acrobat is a mask of dramatic entertainment. This mask looks like the stretched face of a man, his features spread wide across the mask surface and his tongue exposed. When this mask is revealed, the Hensou finds their body malleable, able to bend or be flattened in dramatic ways if by their own will. The most common use of this is to slink agaisnt walls to hide, or to slink under doorways or through cracks that should be unpassable. It takes a full post if they wish to change shape and unshape themselves in the same post, no other actions can be achieved. In combat the person will find their body unweildly and fragile, testing has shown that doing this jutsu during combat is a deathwish. This mask last 4 post.

Name: Hemocoel Toxin System
Stage: 3
Special Requirements: Poison located in the heart (chassis) of the puppet.
Description: A simple jutsu in thought, but significantly difficult in reality, the user practically gives a puppet what humans have running through their veins: blood. However, compared to humans whose blood only serves the purpose of transporting nutrients and oxygen, this jutsu allows the puppet's "blood" to become poisonous. Requiring only chakra and a poison to be placed in the puppet's chassis, the user can passively run the toxin through the mechanism, like a human can passively transport blood around the body. For simplicity's sake, this just means that poison coats all of the puppets' weapons. And though the puppeteer may want to change the puppet's running poison, it will effectively take a whole post of inactivity for the puppet for the system to clear one poison and begin running the next.
Ink, Paints, and Art

Che magnifico! Katsushika Hokusai's Ink Ninjutsu


Name: Sans Canvas
Stage: 1
Description: A technique in which the user utilizes their skill with a paint brush and relies only on the ink and their talent. Hokusai, developed this technique so that he may be able to paint freely without a canvas. By calling forth from his source of chakra he is able to paint pictures in mid-air as if he was actually painting on a floating canvas. The paint is visible and can then be activated to perform its designated task. It's a passive technique that is always active.

Name: Ebony Sakura
Stage: 1
Description: Yet another basic drawing, the user simply creates a large sakura tree. Although the tree doesn't really damage anything, the petals however can hinder vision. Only one tree can be created at genin level. The diameter of the tree trunk is about twelve feet so it cannot serve as a very sound wall. The petals fall upon creation and will cease falling when the tree is destroyed by means of a solid attack. The petals act as a somewhat veil of sorts by hindering vision to the point that the user can easily flee if the opponent is stupid and doesn't pay attention. It's like trying to watch a TV channel your reception doesn't get. You can still see it, but it's blurry and sketchy.

Name: Ink Collector
Stage: 1
Description: After finding it rather cumbersome to wash his clothes, Hokusai's mother has begged him to try and alleviate her aching hands and develop a technique that will wash his clothes automatically. Since his forte isn't detergent jutsu, he has created a jutsu that effectively absorbs all ink in a 20 feet radius and collects it in either bottles of ink or into a large ball, whichever Hokusai chooses. Due to the nature of the technique this often times takes inks from books, magazines, and pictures, not only stained shirts.

Name: Lifelike Ink
Stage: 1
Description: A slightly more advanced technique utilizing ink, Hokusai has learned that although ink animals are cool, they're not as convincing. Through careful chakra manipulation and all sorts of magic, this passive technique allows Hokusai to make his ink animals look convincingly real. Fur, scales, and feathers actually look and move like it would naturally, but under closer observation one will find that it is simply just ink. For a split second when Hokusai creates these beasts you'll be able to see their inky beginnings, but they will be soon resemble their real life inspirations.

Name: Exploding Ink - I
Stage: 2
Description: The first level of exploding ink. The user is only able to cause creatures created by Chouju Giga no Jutsu – Ichi to explode. The creations can explode in a flurry of needle-like drops. Very similar to Shirou Suiton's Water Lily, except in ink form. May only explode two creatures.

Name: Sticky Icky
Stage: 2
Description: A complete opposite to Slippery When Wet. When this attribute is applied to a source of ink, it causes creatures made to be incredibly sticky. The after effect of this jutsu is that it causes the sticky ink to to become less and less flexible. This is usually used to apply to creatures that will explode. When that ink spreads around, opponents and allies alike are advised to avoid the ink as to not get caught in the sticky mess. In order for Hokusai to truly understand his own jutsu, he describes the stickiness to be rather bothersome. Upon creating the technique he found that getting it on one's clothes and hair was annoying especially given that it took quite a while to get off. Essentially, it grew to be despicably troublesome when it got on skin in the open air since the ink became stronger and stronger. In order to truly be "omg I can't move" one would need to be doused in ink, otherwise it just proves to be a mild hindrance in moving.

Name: Frog Surfer
Stage: 2
Description: Hokusai paints one frog and from that single from comes thousands of frogs whose sole purpose is to allow Hokusai to surf atop of them. They propel Hokusai along as long as he continues to force a constant stream of chakra. This can be used to avoid oncoming techniques and attacks, or just for moving quicker than one is normally able to run. For battle purposes this only has a duration of four posts.

Name: Boom Cannon
Stage: 2
Description: It seems fairly childish, but this ink jutsu is fairly useful in battle. Hokusai draws a picture of a cannon. This cannon is capable of firing beaver-sized animals every post for four posts towards the opponent which will then be destroyed upon contact. 15 feet distance. After which, the beast will fall. Great with Sticky Icky.

Name: Exploding Ink - II
Stage: 3
Description: The second stage of exploding ink. Hokusai can now cause creatures created through Chouju Giga no Jutsu - Nii to explode. With this technique, Hokusai can now charge these creatures. For every post after activating the technique, the explosion becomes subsequently stronger. Due to the nature of the jutsu, Hokusai must be still and concentrate his chakra on the beast. This causes the ink within the beast to become more concentrated and potent. After a three post charge (maximum) the beast(s) explodes in a spray of highly compacted pellets that can break rocks and cause painful welts. May only explode three beasts. At lower levels the pellets can only bruise that can be both painful and distracting.

Name: Ink Body
Stage: 3
Description: Taking a full post of preparation, Hokusai begins painting on his own body. During this time, he cannot use any ink jutsu for attack or defense, but it he can still move around relatively quickly. After this process is done, Hokusai should be covered head to toe in black ink, but once activated the ink seems to disappear. This new layer of ink encapsulating Hokusai protects him from any of his own ink creations, especially when he makes them explode. They will simply absorb into him and do no damage. However, this only works against his own ink, so any foreign ink will still do damage. This also prevents cuts and dampens blows of stage 2 taijutsu and below. Hokusai can do this to two people in a single post.

Name: Toxic Ink
Stage: 3
Description: A passive technique, Hokusai is able to convert vials of poison into ink for his creations while still giving those poisonous attributes to his art.

Name: Explosive Ink: Fog
Stage: 4
Description: A quick jutsu that can be applied to any ink creature Hokusai makes, the Fog technique provides a good cover for many situations. With a single seal the beast will explode covering the area in a twenty foot radius of thick black smog. What makes this jutsu even more debilitating is its natural ability to cause people to cough, sometimes even uncontrollably. This technique lasts for two posts before the smog magically dissipates.





Katsushika Hokusai's Ink Genjutsu

Name: Manga Ink: Prologue
Stage: 1
Description: Making a broad stroke across the ground will set the trigger. If the opponent sees this action, the ink will magically cover the immediate vicinity and anywhere the opponent seems to look appears to be drawn while colors seem to disappear and only black and white remain. Seeing the "real" world in a drawn state can often times confuse opponents, while the lack of colors can be a bit weird as well.

Name: Ink Splatter
Stage: 2
Description: Just your average vision impeding jutsu, Ink splatter works simply but can debilitate even the best of shinobi. Hokusai will flick his paint brush and say "watch out." If the target hears those words and/or sees the motion, the trigger is set. The target will see the world as if there was a large splatter of black ink. Think of it like this, if you were wearing goggles and paint splattered on it, you'd have a difficult time seeing, but you can still see. It is far from complete blindness.

Flashing... Lights

she don't believe in shootin' stars Shikunshi Hikaru's Light Genjutsu


Name: Strobe
Stage: 1
Trigger: Witnessing Hikaru clapping
Description: It's not that he's a raver or anything, but Hikaru is very intrigued by lights. The simplest of his light arsenal is Strobe. After hearing Hikaru clap, a strobe effect surrounds the opponent. Lights come from different directions and begin to beam on and off. This can become very bothersome and can have the same effects a natural strobe light would have. All natural occurrences with strobe lights are taken into effect such as perception of depth, speed of objects, etc. The constant flashing lights can be very disorrienting.

Name: Teleport
Stage: 2
Trigger: Witnessing a flash bang
Description: With this technique, Hikaru makes the illusion as if he is constantly teleporting around his opponent(s). With his signature trigger of activating a flashbang, the opponent will continue to see the flash bang go off every second. With every flash of light, however, the opponent will see the user move to a different spot. If the opponent concentrates, however, they will be able to notice that with every flash they can see a hint of Hikaru's actual spot. Most will be unable to spot this due to the constant flashing and the repositioning of 'Hikaru.'

Name: Forget
Stage: 3
Trigger: Witnessing a finger snap
Description: A simple technique with only one seal. Upon witnessing Hikaru snapping his fingers, the opponent will see a bright flash of light akin to a camera flash. Short term memories that happened minutes(2 posts) before the jutsu are instantly forgotten. They will, through a strike of an epiphony, return to the opponent later on (2 posts later). For aesthetic purposes, the flash of light will leave those ever popular spots or bubbles in the opponent's eyes.

Name: Facade
Stage: 3
Trigger: Witnessing a flash bang
Description: Once triggered into the genjutsu, the placement of people on the field are completely altered. The opponent(s) will think that their comrades may have moved, or their opponents have moved, but in reality nothing has changed, only the outward appearances of all important bodies in the area have changed. This can cause confusion within teams. However, this genjutsu affects all people in the vicinity even allies to the user. (does not effect the user, of course)

Name: Doubt
Stage: 4
Trigger: Witnessing a flash bang
Description: After throwing down a flashbang, the genjutsu technique will go into effect if the victim(s) witness it. Once the light dissipates, the opponents will be overcome with this feeling of uselessness. Their jutsus all seem to malfunction while their physical attacks are not as coordinated. In reality, they are functioning correctly but their mind is telling them that they're doing something wrong. This can cause opponents to second guess their techniques, re-do their hand seals, or think of other strategies.

Name: Ghost
Stage: 5
Trigger: Witnessing a flash bang
Description: Like most of Hikaru's genjutsus, this is triggered by a flashbang. After witnessing the bright flash of light, Hikaru will be gone from the opponent(s) vision once the light dissipates. Once the light clears, Hikaru will no longer be visible yet is still able to move normally and to attack. Inanimate objects that leave his body, however, will still be visible. So an opponent will be able to see kunais being thrown, etc.

Name: Peace
Stage: 6
Trigger: Witnessing a flash bang
Description: Peace is Hikaru's signature technique. Hikaru will activate a flashbang for the trigger. Upon witnessing the bright flash, the light will persist for the duration of the genjutsu. While trapped in this blinding light, the opponent(s) will be overcome with a feeling of pure euphoria and relaxation. Those who have experienced it say small butterflies flutter about, while the bright light covers up anything and everything in the surrounding area. Totally eliminating the user from the opponent's vision, this pure and peaceful light destroys any sense of paranoia and worry as well.


Lying is the Most Fun a Girl Can Have Without Taking Her Clothes Off

Does this face looks like it'd lie? Asano Kozue's Espionage Genjutsu


Name: Worry
Stage: 6
Trigger: "Don't worry" or any variation of that phrase. (ie, saying technique name)
Description: Everything and anything is wrong and nothing will ever go right. Simple in theory, this jutsu once in affect causes those affected to believe everything wrong will simply go wrong. Much more deceitful than doubting one's abilities, this jutsu makes the target feel as if they're getting sick with almost anything, the slightest touch could lead them to believe they'll bruise. Paranoia sets in and it causes them to believe that anything and everything is out to get them. That tree over there? Yeah, it has a rare form of disease that may cause your skin to melt off. That fly? It has malaria all over it. Even the most meaningless things like shoes being untied, shirts unbuttoned, are maximized to the greatest stipulation. They'll worry for their safety, worry for their comrades' safety, hell, even worry for the safety of the opponent. The world as they know it might as well come crashing.

Name: Honesty
Stage: 5
Trigger: Smell of cigarette smoke
Description: The smell of nicotine smoke has always been considered a somewhat relaxant. But besides its chemical properties, smoke provides much more in this jutsu. Upon smelling the cigarette smoke, the given target will begin to feel lucid. At this moment, the user can begin asking questions about anything and receive honest, truthful answers. Although village secrets and things kept deep down and forgotten are harder to bring back up, the target will still find it difficult to lie/not respond. Truth serums in reality typically increases talking rather than actually truth telling, while it can also just make targets tell fantastical tales. However, this jutsu gives the honest truth as if they portray the user as someone trustworthy. Not combat applicable. Opponent permission required.

__________________
Told you she didn't have a dick.
---
Last edited by jazzworth; 06-15-2009 at

01:46 AM

..