GFX Request Forum Rules
---
Asking for Signatures or Avatars

Remember, anyone who takes up a signature or avatar request is taking their own personal time to fulfill your request! So, be considerate and try to include some of the following:

- The subject of the signature
- A stock image, or a render
- Text to include in the sig (your username, or a tagline)
- A color theme (if desired)

It will depend on who takes your request, but it is generally easier for GFXers to follow a set of guidelines. Take care not to be overly specific, as it might make people reluctant to fulfill your request.

And yes, you should be an active member of Engi to request signatures. We don't want somebody to request a signature from Engi, then run off with it.

Whether you credit the person who made your signature or not is completely up to you and the person.

Remember, start your own thread if you want a sig for yourself. Spamming in other people's sig request threads will result in a warning.


Size Limits

We will ask you to change your sigs if it is more than 550 pixels in width. It stretches out the screen. We do not enforce a strict height rule, though in the past we have asked to try to keep your sig under 450 pixels. Everything is case by case, so as long as it is not disruptive, there should not be an issue.

The size limit for avatar is 120x120. If you find that your avatar goes over the size limit (45kB?), try changing it to a png file or even a gif.
__________________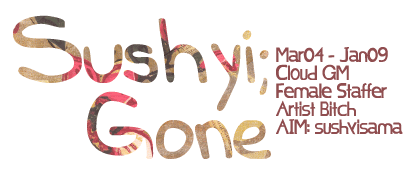 Sushy's Jounin Ladies --
The Dead
,
The Bitch
,
The Alchemist,
The Lady
, The Haunted
SR, Hensou, Roots, Navy, ???
Her Tools
&
Her Abilities
AP LEFT TO GIVE AWAY: 64