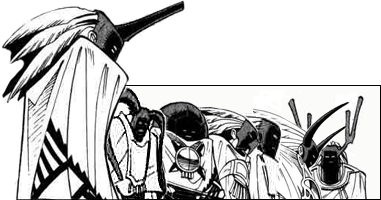 If the winners are the ones who write history,
then you better be ready to get us paper and ink.

A lot of paper and ink.
-------------
The Silver Wolf//The Parasite//The Flame
The Peregrine//The Nameless//The Demon//The Steel
The Seven Legendary Swordsmen are not what they used to be. Now a band of mercenaries and criminals, they've been personally handpicked by the former Mizukage, Araiso Shuzamaru, and his organization of government (or otherwise equally important and influential) members who share a similar thought as he does: Nemoha Maya is not fit to lead. However, they know full well she possesses too much strength on her own for them to assassinate, so instead they sought to control her village, which was full of people much weaker than her.
They spread themselves across the land to find the worst (and yet most loyal) of people who would work for them. In some cases it took elaborate deceit, in others simply wads of money, but in the end, they recruited seven of the nastiest people they could find and declared them the official "Seven Legendary Swordsmen of Mist", granting them the power over all Mist Shinobi and jurisdiction over the entire country. Since then, these Swordsmen have been making life hard for Kirigakure (under orders), doing as they see fit. Each commands their own squadron of henchmen for protection, though to attack them would be considered an act of treason.
While Nemoha Maya may be the iron queen of Mist, these seven are now your princes and princesses.
Bow before them, lest they decide you unfit to continue living.
NOTE: To continue looking extremely badass and mysterious, the Seven Goonsmen all wear the masks portrayed in the header image (the figures are in the same order as the names are) whenever they feel like it. They might even swap masks just to screw with you.